About Starcat
Nikki Shields, also known as Starcat, is a writer, healer, and Mom living in southern Maine. She learned Reiki I in 2003, and advanced to Reiki II in 2005. Nikki's regular spiritual practices, along with self-Reiki, include meditation, yoga, and daily journal keeping. These practices help support her in her passion for sharing both healing energy and ideas to help people follow their spiritual paths. Nikki is the co-founder, with her partner BlackLion, of Feline Dreamers. She also enjoys reading, drumming, cuddling her cats, cooking, and homeschooling with her two awesome kids.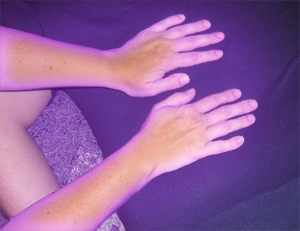 Reiki (pronounced "RAY-key") is a form of hands-on energy healing where the Reiki practitioner channels universal energy into the person being healed. The word Reiki means "universal life energy" in Japanese. Various forms of energy healing through the laying on of hands have been practiced since ancient times. Reiki healing, and in particular the Usui tradition of Reiki that I was taught, dates back to the late 1800s. A Japanese man named Mikao Usui experienced a spiritual awakening that led to the creation and teaching of this particular system of healing.

I am offering healing Reiki sessions in the southern Maine and southeastern New Hampshire regions. I will come to your home for a one-hour session (and in the future I may also offer other locations throughout the area). Contact me to arrange for a session, and experience the healing relaxation of focused universal life energy!
---
"Nikki is an experienced Reiki practitioner whose gentle hands will weave the loose and frayed ends of your energy back into a coherent body whole. I always feel better after seeing her. She was especially helpful in the weeks immediately after surgery, when my body felt violated and I needed to find a path back to healing and wholeness." - Mary G., Wells, ME
"Nikki Shields simply exudes calming energy. She is one of the most nurturing people I have ever met and a Reiki session with Nikki is an amazingly peaceful and relaxing experience. I love that she makes 'house calls' and I can just curl up and go to sleep as soon as the session is over." - Maureen D., Portland, ME
"I have experienced Nikki Shields' loving Reiki energy and recommend it highly to everyone. Nikki's Reiki skills are exceptional, in my opinion, and healing spiritually as well as physically. Please take advantage of this service she provides." - Mark G., Wells, ME
"The Reiki I received from Nikki was a huge part of my healing journey through my breast cancer treatments. Her gentle spirit and intuitiveness was and is incredible. I would highly recommend Reiki from Nikki to anyone!" - Jenn G., Portland, ME
"Reiki is a wonderful tool and Nikki certainly has a knack for it. When I had a multi-trauma accident, she used Reiki on me while I was in the ICU and I'm sure it helped me relax and heal." - Jeannie G., Waterboro, ME
"After a long few seasons of major life change and the loss of my father, I decided that I needed a 'tune-up.' I knew Nikki was a practitioner and I had heard good things. I called Nikki and she was very compassionate and understanding of my needs. Having had a history of mental health issues, I was apprehensive about such an intimate healing process. Nikki worked with me about my needs for sound and scents in our session. She made me feel comfortable and supported in the process of arranging our healing session. When Nikki arrived she made me feel at ease and we talked about my exact needs and concerns. With the proper music selected, and the space set up and comfortable, we began. The experience itself was powerful and rejuvenating. Not only did my body feel newly charged, but the time spent on table for the healing was a time for me to meditate and reflect. I could feel warmth penetrating as her hands passed over my skin. I was soon fully relaxed and allowing her to work with my body to allow it to realign and heal. When the session was over I felt very light and warm. For the next few hours, I remained in a state of euphoria. That night my dreams were full and I had a peceful and restful night's sleep. These feelings lasted strongly for almost a week. On a daily basis I was able to recall the energy I felt her bring through to me and to allow myself to go back to that place. In the days and weeks following my healing I was able to think more clearly, and move more freely without pain or discomfort, as well as my spiritual practice taking on a deeper level." - Janine M., Portland, ME
---
Visit my FAQ page for more information about Reiki and its benefits, or visit these links:
Usui Shiki Ryoho
http://www.usuireiki-ogm.com
The Reiki Alliance
http://www.reikialliance.com
---
A one-hour session in your home (in the southern Maine/southeastern NH area) is $55. If you schedule three sessions, the total cost is $135. For packages of more than three sessions, please contact me for further information.
My availability is flexible, and we can easily fit your Reiki sessions into your schedule. Morning, afternoon, and evening sessions are available, and I do offer weekend as well as weekday time slots.
To schedule your session or to consult with me, e-mail starcatdreamer at yahoo dot com, or call 207-939-7326 (leave a message and I'll return your call promptly).